EFFICIENCY AND SUSTAINABILITY WITH HT PLUS
REDUCE THE OPERATING COSTS OF YOUR WATER JET SYSTEM WITH PRODUCTS FROM HAPRO TECHNIK PLUS.
The effectiveness of water jet cutting machines can be increased considerably with Hapro Technik Plus systems. Efficiency, sustainability, and an environmental focus are extremely important to us.
The products in our Plus series are developed according to strict criteria – they are suitable to increase the service life of the machine, to save energy, and to protect resources.
EHANCE YOUR WATER JET CUTTING SYSTEM WITH US!
The water quality and the quality of the installed components are mainly responsible for the service life of the machine:
Ideal water quality for supplying high-pressure pumps. Whether or not a high-pressure pump performs well depends mainly on the water quality. Instead of more elaborate technology, the Preparing System HT PR-EVO2 uses intelligent and effective materials to optimize all aspects of water which could reduce the service life.
With the Preparing System HT PR-EVO2, maintenance intervals can be prolonged by 50 – 500 % which constitutes a considerable cost savings. At the same time, operational safety is increased by a reduction in damages to the high-pressure pump as a result of water-related malfunctions. Thus, the amortisation is fast and the consumption costs are moderate.
PREPARING SYSTEM HT PR-EVO2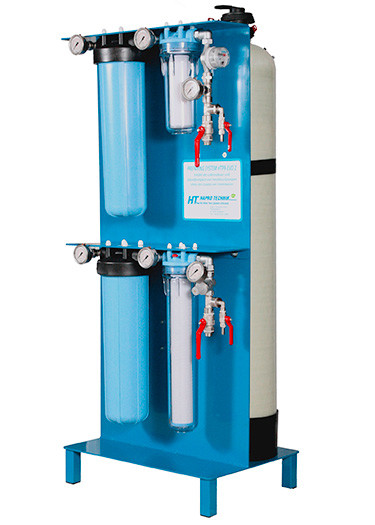 The Purifying System cleans the polluted wastewater. Official requirements are met with ease.
Thanks to the special filtration technology used in our HT Plus Systems (Preparing, Purifying, or Recycling), contamination of the high-pressure pump can be prevented.
With the HT analysis case the water quality is determinable easily.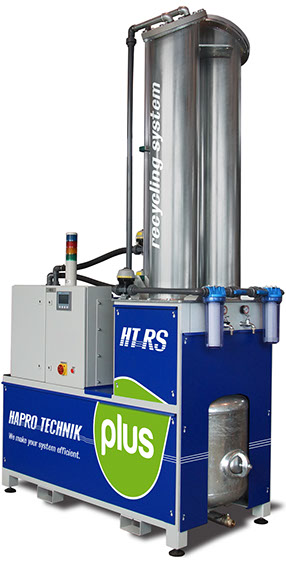 Self-sufficient and independent of manufacturers, therefore

Easily integrated into existing systems

Extremely low maintenance

No wastewater in the sewer, and as a result

Independent of regulatory requirements

Can be used everywhere (sewage treatment plants, industrial wastewater treatment, etc.)

Cutting water treatment without chemical additives
WATERRECYCLING WITH THE RECYLING SYSTEM HT RS
Save fresh water costs and wastewater costs and any possible required inspections, by reusing your cutting water in the cycle. In addition, the HT RS System enhances the cutting water thereby prolonging the service life of your machine.
Generally speaking, water jet cutting is an environmentally friendly technology. However, given that a single cutting head uses on average 400,000 litres per year, large amounts of drinking water are needed. Once used, the water drains into the sewer which leads to considerable expenses. In many cases, these expenses involve disposal costs to remove traces of problematic materials left in the water after cutting.
It is important for us to keep the ecological footprint as small as possible. In the HT RS system (Hapro Technik Recycling System), the cutting water is processed without any chemical additives and fed via an intermediate container back to the high-pressure pump. This saves water, makes it easier to obtain an operating permit, protects the environment, and is less costly. The maintenance costs and energy consumption are low.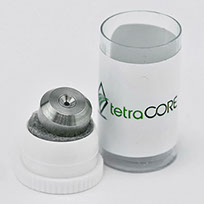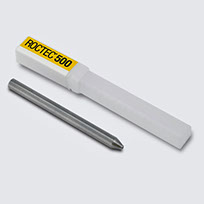 for Exacting Requirements.
High-quality wear parts and consumables provide peace of mind when it comes to workpiece quality and machine availability. Increase the productivity of your machine and, at the same time, reduce your running costs with HT Plus Premium Wear Parts.
HIGH-PRESSURE PUMP HT SERVO-JET4000
The Servo-Jet4000 clearly demonstrates the highest level of efficiency with its exceptional energy efficiency and simultaneous high cutting speed. Compared to a conventional high-pressure pump, the Servo-Jet4000 foregoes ineffective hydraulic systems.
A plunger pump with three pistons coupled with a highly efficient Servo direct-drive boosts the overall efficiency to almost 98%.
Pure Performance – Pure Speed – Pure Precision.