HT SERVO-JET4000 for the highest level of efficiency.
HT Servo-Jet4000
for the highest
level of efficiency.
We're working full steam on your success. Our products and technologies enable your efficient production and sustainable work. We guarantee highest quality and fastest possible delivery – so we support your workflow ideally. 
Our experience and know-how help you to optimize your waterjet cutting system.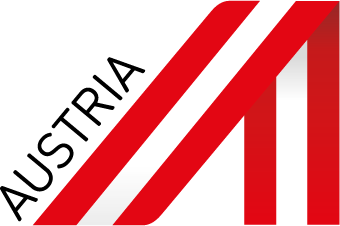 HT SERVO-JET4000 AND HT SERVO-JET4000 PURE – THE PROBABLY MOST ENERGYSAVING HIGH-PRESSURE PUMPS IN THE WORLD.
Compared to a conventional high-pressure pump, the HT Servo-Jet4000 foregoes ineffective hydraulic systems. A plunger pump with three pistons coupled with a highly efficient Servo direct-drive boosts the overall efficiency to almost 98 %. At low power consumption (max. 55 kW) there is a large output (max. 8.4 l/min).
This makes it possible to supply several cutting jets at the same time and means the leap into a new, future-oriented efficiency class – WITH UP TO 40% ENERGY SAVINGS!
The High-pressure pump is the heart of every waterjet cutting system: The more efficient the pump, the more efficient the entire system.
All in one - many advantages from a single source
Energy savings up to 40 %
Use the non-binding efficiency calculation
(Costs and savings) when using an HT Servo-Jet4000 in your company.
Long maintenance intervals reduce operating costs!

We recommend preventive maintenance at 1,250 OPERATING HOURS.
Funding of the entire system up to 45%! *
We take care of your entire funding process.
* – 45 % maximum funding in Germany.
– 30 % maximum funding in Austria.
High-pressure pump HT Servo-Jet4000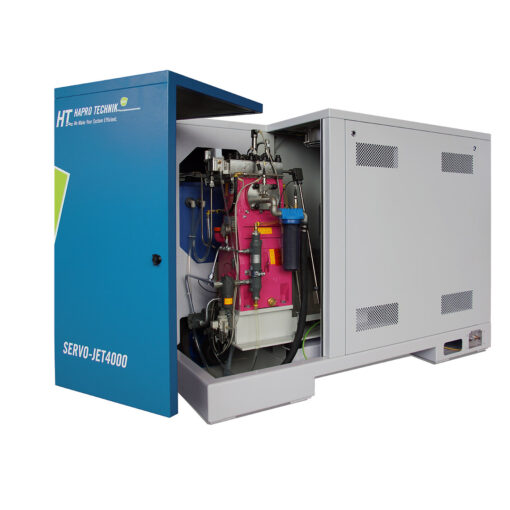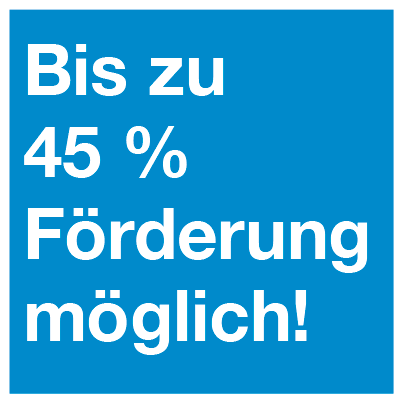 Up to 40% energy-savings

compared to conventional systems

High energy efficiency: servo direct-drive,

no reactive current, low and flexible current consumption

Low connected load

required: No power consumption when the system is
at a standstill – suitable for operations with low energy supply
Plunger pump with three pistons:

High power density

and high level of
efficiency of up to 98 %, replace 6,000 bar technology

long maintenance intervals,

simple structure, no warm-up and startup phase – ready to go right away 

Permanent pressure control 

and integrated pulsation damping

Higher cutting speed 

than with the pressure intensifier in a comparable combination

Lowest noise level of 

< 75 dB

Can be used in all 

waterjet cutting machines and brands
What are the advantages in terms of costs and benefits when using an HT Servo-Jet4000 in a system-optimized manner?
Direct comparison of the established technologies for pressure generation (WJC-system with one cutting head).
 
INTENSIFIER PUMP
SERVO-JET4000
 
Required energy
max. 37,000 W
 

optimized 20,800 W *

– 44 %

operating cost
ca. 5 € / h
ca. 2,5 € / h

– 50 %

Cutting speed
100 %
100% (up to 200 % possible

**)

+ 100 %

Pressure generation
Hydraulics
Servo direct drive
 
Energy losses
high (due to reactive current and hydraulics)
low, High efficiency
 
Maintenance intervals
500 – 800 operating hours
Preventive maintenance at 1,250 operating hours

+ 48 % more operational time

Power protection
80 A

– 37,5 %

pressure control
Inertial pressure level

Constant pressure level

 
Noise level
< 80 dB
< 70 dB

– 12, 5 %

* up to – 40% less energy consumption (depending on the required delivery rate)!

** in combination with HT Power technology

*** 50 A at maximum delivery rate
All in one - many advantages from a single source
With a HT Servo-Jet4000 it is possible to operate several cutting heads with a delivery rate of max. 8.4 l / min!
HIGH-PRESSURE PUMMP HT SERVO-JET4000 PURE
The world's first direct-drive plunger pump – ideal for pure water cutting.
PURE PERFORMANCE – PURE SPEED – PURE PRECISION .
Our innovative technology allows for record-breaking switch cycles of under one second.

The high-precision pressure control – combined with an accumulator – guarantees a constant waterjet and allows for unparalleled cutting speeds.

The use of quality components promises a long service life and the same for
the high-pressure pump.